Manny Pacquiao is considered the Pound for Pound Champion in boxing. He defeated lots of well known boxers including Oscar dela Hoya. Pacquiao is the first boxer in history to win seven world titles in seven different weight divisions. In addition, he is the only boxer to win the lineal championship in four different weight classes. For his achievements, Pacquiao was named the 2000-2009 "Fighter of the Decade" by the Boxing Writers Association of America.
I heard lots of intrigues on how Manny Pacquiao be able to achieve victory on every fight or match. With those intrigues I got curious with only one, the tragedy before or after each fight. They say when he wins a tragedy happened or a tragedy will happen. I'm very curious, so to feed my curiosity I made a research and see if there are tragedies before or after each fight. I'm really curious and this is what I come up with.
Here are the list and dates of Pacquiao's Fight and tragedies or deaths:
March 13, 2010
The Event: Pacquiao vs Joshua Clottey
Pacquiao won by unanimous decision against Clottey in Cowboy Stadium.
March 19 Edward James died, son of Toni Rose Gayda an actress in the Phils.
March 25 Christian Angelo died, son of Cesar Montano an actor in the Phils.
November 14, 2009
"Firepower" Pacquiao vs Miguel Cotto
Pacquiao won by Knockout on the 12th round in MGM Grand.
November 23 Maguindanao massacre reached 57 dead
May 2, 2009
"The Battle of the East and West" Pacquiao vs Ricky Hatton
Pacquiao defeated Hatton by knockout on the 2nd round
May 4 Flash floods and landslides triggered by heavy rains dumped by a
typhoon have killed 20 people and left 3 missing in the Phils.
December 6, 2008
The dream match : Pacquiao vs Oscar dela Hoya
Pacquiao won on 8th round when dela Hoya's side threw the towel
December 7 Marky Cielo an actor in the Phils. found dead in his
room
December 15 At least 28 people drowned and were confirmed dead,
46 were rescued, while 34 others remain missing on Sunday,
after an overcrowded passenger motorboat capsized off waters in
Ballesteros, a town of 17,000 people, the Cagayan police reported.

June 28, 2008
Make or Break: Pacquiao vs David Diaz
Pacquiao won by Knockout on the 9th round in Mandalay Bay Resort
June 21 The MV Princess of the Stars,
flagship of the Sulpicio Lines fleet, 100 dead 500 missing
March 15, 2008
Unfinished Business: Pacquiao vs Juan Manuel Marquez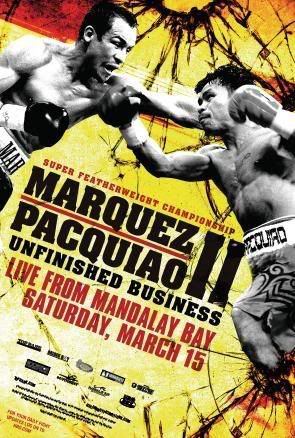 Pacquiao won by split decision
March 13 Scarlett Garcia a Filipina model was murdered with other two
in Olongapo city
October 6, 2007
Will to win: Pacquiao vs Marco Antonio Barrera
Pacquiao won by unanimous decision
October 19 The Glorietta mall in Makati City was allegedly
bombed by unknown assailants.
November 18, 2006
The
Grand Finale: Pacquiao vs Erik Morales
Pacquiao knocked out Morales
December 1 Albay declares a state of calamity has Typhoon Reming
causes 198 deaths and counting.
December 3 406 perished after Typhoon Reming caused several
mudslides around Mayon Volcano
July 2, 2006
Mano-a-Mano: Pacquiao vs Oscar Larios
Pacquiao wins a 12 round unanimous decision
July 13 Tropical storm Florita slams into Batanes,
causing the deaths of fourteen people.
January 21, 2006
Pacquiao vs Erik Morales
Pacquiao won in a tenth-round technical knockout at the Thomas & Mack Center, Las Vegas.
February 4 A stampede occurred during the first anniversary of
ABS-CBN's television program Wowowee at the PhilSports Complex,
causing the deaths of 74 people and the wounding of about 400 others.
Is it coincidence?
Now it's up to you how would you like to interpret what happened. :)